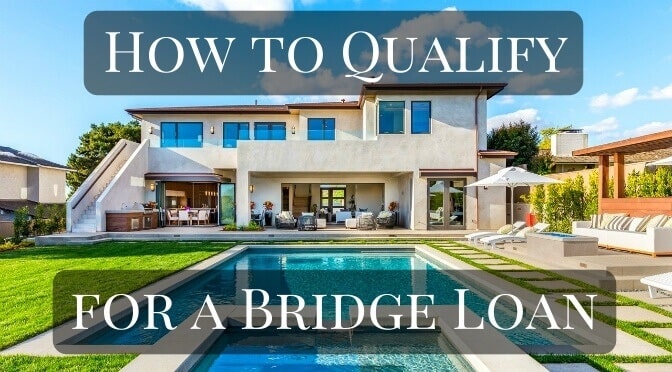 How to Qualify for a Bridge Loan
What You Need to Know About Getting a Bridge Loan
Many borrowers have heard of bridge loans but they aren't exactly sure how they work, how to get a bridge loan or how to qualify for one. This article will focus on residential, owner-occupied bridge loans (consumer purpose loans) as opposed to bridge loans for business purpose.
Bridge loans are a fast and easy option for equity-rich property owners who are currently illiquid and need cash. The bridge loan allows the borrower to raise funds by taking out a loan against their current property. The bridge loan proceeds can then be used to purchase a new property. Once the new property is secured, the previous property is then sold which pays off the bridge loan.
How to Get a Bridge Loan
A bridge loan is a short-term financing tool that assists the property owner in moving from their current residence to their next home. Because of the short-term nature of bridge loans, most conventional lenders such as banks or credit unions do not offer bridge loans. They are more commonly offered by hard or private money lenders who are able to provide consumer purpose loans.
Ask a trusted real estate professional for a referral or search the internet for a residential bridge loan lender that provides bridge financing in your area.
How to Qualify for a Bridge Loan
Equity Requirements
Qualifying for a bridge loan is primarily based on the existing equity in the owned property. Bridge loan lenders will typically lend up to 70% of the current value of the existing property.
The Double Bridge Loan – In some situations, the borrower can pull equity from their existing property but it won't be enough to purchase the new property with all cash. A bridge loan specialist may be able to provide two concurrent bridge loans. The first bridge loan provides a cash out from the existing property. These funds are then used as the down payment for the second bridge loan on the purchase of the new property.
Income Requirements
The vast majority of consumer purpose loans require income verification (W2s, tax returns, pay stubs) and ensuring the borrower's debt to income ratio will not exceed 50% due to the current federal regulations. Residential bridge loans are a special exception and do not require the same debt to income scrutiny as they are not subject to this same regulation. However, the bridge loan lender will want to verify the borrower has enough income or cash reserves to make the monthly bridge loan mortgage payments and cover any other property holding costs while the loan is outstanding.
Credit Requirements
From a lender's point of view, the higher the credit score the better. A residential bridge loan is a special situation in which the lender may be less concerned with a less than perfect FICO score. Since the sale of the current property will automatically pay off the bridge loan, the lender can be reasonably certain they will recoup the loan amount.
A credit score of 650 and above should be easily approved by private money bridge lender. Lower scores may be approved but may require a deeper analysis from the lender. In a situation where the borrower will need to refinance with a conventional lender in the near future (double bridge loan), the borrower must have a high enough credit score to qualify for this type of institutional loan.
Recent Bridge Loans Funded by North Coast Financial
Bridge Loan Request
An associate will contact you to review the loan scenario and provide a quote.