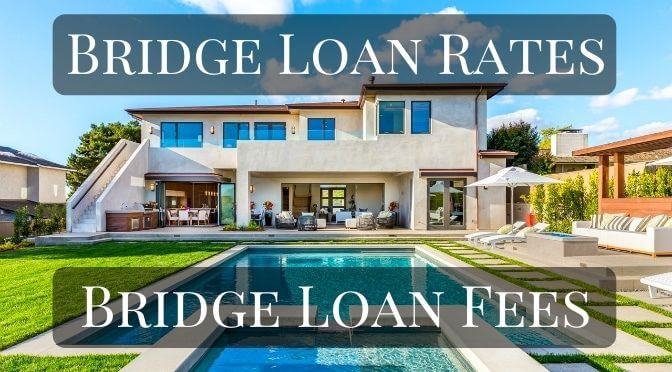 Bridge Loan Rates
Bridge loan interest rates are typically higher than traditional 30-year mortgages from conventional lenders such as banks, credit unions and other traditional lenders. Bridge loans are only intended to be very short-term which is why the bridge loan rates are higher. Most conventional lenders do not offer short-term bridge loans as they are primarily focused on providing more long-term products such as 15-year and 30-year mortgages. Residential bridge loans are usually written for 11 months while commercial bridge loans are commonly offered for 12-24 months.
Many bridge loan lenders are private money lenders who provide mortgages secured against real estate. Private lenders are able to fund very quickly and have much more flexibility than institutional lenders. The convenience of speed and flexibility as well as the short-term nature of bridge financing results in bridge loan interest rates that are higher than conventional lending.
Bridge Loan Rates Today
Short-term bridge loan rates today are typically in the range of 9-10%. Mortgage bridge loan rates can vary based on various factors including:
Loan to value ratio
Loan amount requested
Financial strength of borrower
Credit scores of borrower
Property location and condition
Borrower's exit strategy
Lender's current funding capabilities
Residential Bridge Loan Rates
While residential bridge loan rates are higher than conventional rates, they are only a short-term tool used to quickly access equity within an existing property. Residential bridge loans are commonly written for 11 months. The bridge loan is paid off once the borrower's existing property is sold and this typically happens within 3-6 months of the bridge loan being funded. The very short-term nature of the bridge loan is one of the main reasons quick bridge funding interest rates are not as low as conventional rates.
While residential bridge loan rates are higher than conventional rates, the benefit to the borrower of being able to obtain quick financing in order to purchase a new property is worth paying the higher bridge loan financing rates. A residential bridge loan refinance from a private money lender can be funded in 2.5 weeks while a conventional cash-out refinance loan from a bank can take up to 2-3 months.
Real estate bridge loan rates will be much lower than interest rates for unsecured personal loans. Using real estate as collateral reduces risk and results in lower interest rates. Bridge loan rates for California real estate are likely to be lower than elsewhere in the country as there are more private lenders in California which increases competition and reduce interest rates.
Bridge Loan Rates 2023
Bridge loan rates in 2023 have remained similar to interest rates seen in late 2022. While the conventional mortgage rates have continued to increase throughout 2022, current bridge loan rates from private lenders have not increased in the same proportion. Current bridge loan interest rates are expected to remain constant or slightly increase throughout 2023.
Bridge Loan Fees
Bridge loan fees are charged in additional to the bridge loan rate. Bridge loan fees are typically in the form of "points". 1 point is equal to 1 percent of the loan amount. Points for bridge loans are commonly in the range of 1.5-2.5. Some bridge loan lenders may also add junk fees to the loan in additional to the points. They are often called underwriting, processing or document fees. Other fees associated with a bridge loan would include standard real estate 3rd party fees such as escrow, title insurance, recording fees and notary fees.
What is a Bridge Loan?
A bridge loan is short-term financing tool used to help a borrower pull equity from an existing property to help purchase a new property. Once the new property is purchased, the previous property is sold which automatically pays off the bridge loan.
Recent Bridge Loans Funded by North Coast Financial
California Bridge Loan Request
An associate will contact you to review the loan scenario and provide a quote.