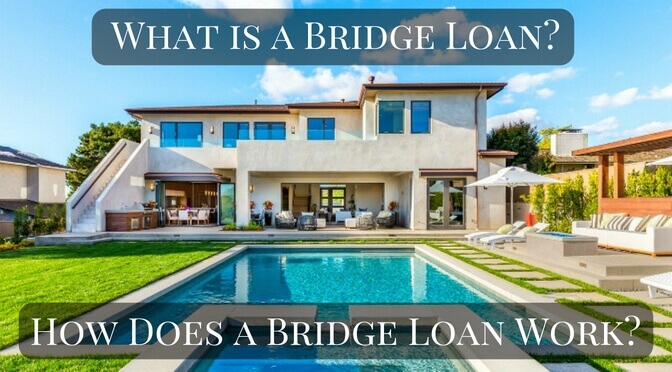 How Does a Bridge Loan Work?
A bridge loan is a short-term financing tool used to "bridge the gap" until permanent financing can be put into place. Traditionally, bridge loans require the borrower to own an existing property they can borrow against but many use the term bridge loan to describe any type of short-term loan. Bridge loan lenders typically offer loan terms of 1-3 years which gives the borrower sufficient time to find a permanent financing solution.
How Bridge Financing Works
Bridge financing works by allowing a property owner to borrow against the equity within their existing property. The borrower is able to pull equity from their property in order to purchase their next property. Bridge loans are secured by real estate with a recorded note and deed of trust just like a traditional bank loan. The loan proceeds from the bridge loan are used to purchase the new property with either all cash or with other financing. Once the new property is purchase, the previous property is sold which pays off the initial bridge financing.
Double Bridge Loans
In some situations, a double bridge loan may be required by the borrower. This would consist of a bridge loan against an existing property already owned and an additional bridge loan used to help purchase the new property. Double bridge loans are often used when the borrower needs two loans simultaneously but isn't able to qualify for both loans at the same time due to the debt to income ratio requirements.
Bridge loans are not subject to the same debt to income ratio requirements as they are considered temporary loans. Once the initial property is sold and the bridge loan is repaid, this will allow the borrower to qualify for a conventional loan to refinance the bridge loan on the newly purchased property.
How Much Can You Borrow On a Bridge Loan

How much you can borrow on a bridge loan will primarily be determined by the value of the property. Bridge loan lenders can typically lend up to 70% of the current value of the property. Any existing loans against the property would need to be paid off by the bridge loan which will decrease the amount of cash proceeds to the bridge loan borrower. Bridge financing amounts of up to $3-4 million for a single family residence should be available from established residential bridge loan lenders. Larger bridge loan amount are often available for multi-unit properties.
Contingency-Free Offer – Why Home Owners Turn to Bridge Loans

Home owners turn to bridge loans in many cases so they can present a contingency-free offer that doesn't require selling their existing home. In a seller's market it is unlikely that a seller will accept an offer that is contingent on the buyer selling their existing property.
Home owners also turn to bridge loans so they can avoid the cost and hassle of moving twice (selling property, finding temporary housing, moving into new home). Bridge loan lenders are often private money lenders and typically have far fewer restrictions than banks and other traditional lenders. If a borrower has been turned down by a bank for a minor issue it is possible that the private lender can still consider providing the borrower with a bridge loan.
Average Bridge Loan Rates

Bridge loan rates are higher than conventional loans as bridge loans are only a short-term financing option. Expect average bridge loan rates of 8% to 10% interest with 1.5-3 points as the bridge loan origination fee. The bridge loan rates will vary based on the bridge loan lender, loan to value, loan amount, strength of the borrower, credit and various other criteria. While the annual bridge loan interest rates are higher, many borrowers sell the property or refinance into a low-interest loan as soon as possible to avoid paying the higher rates.
Recent Bridge Loans Funded by North Coast Financial
California Bridge Loan Request
An associate will contact you to review the loan scenario and provide a quote.