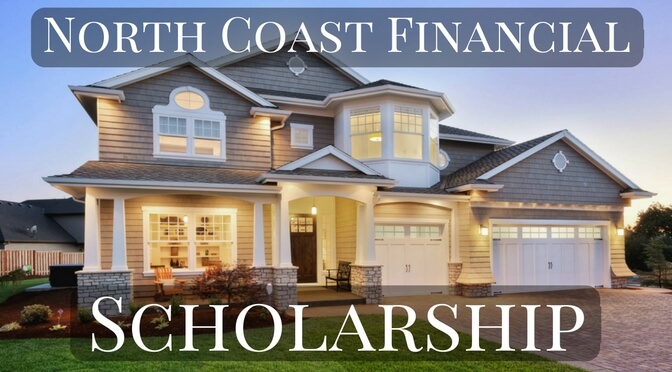 2018 North Coast Financial Scholarship – $750
At North Coast Financial, we value higher education and understand the importance of providing assistance to those in need. Going to university can be a substantial expense and significant financial sacrifice for the both the student and their family. All the necessary costs such as tuition, books, housing, food and various other expenses add up quickly and can easily be in the tens of thousands of dollars per year.
North Coast Financial is pleased to offer scholarships to current full-time college students who are pursuing a degree in Real Estate, Finance or other Business-related degree.
How to apply
Submit an essay of at least 500 words (maximum of 750) to scholarship@northcoastfinancialinc.com on the following topic:
Describe your career aspirations and your reason for pursuing a business-related degree.
Use the subject line "North Coast Financial Scholarship Application"
Email must include:
Attached essay in word format
Full name
Address
Phone number
Name of school
Major
Expected graduation date
Requirements to apply
The requirements to apply for the North Coast Financial scholarship are the following:
Must have a cumulative GPA of at least 3.2
The essay must be the applicant's original work
Must be full-time student
Pursuing a degree in real estate, finance, marketing, accounting, management, economics or other business-related degree
Student must be able to provide proof of GPA requirement and full-time student status
Deadline
Applications may be submitted from September 15th 2017 through April 30th 2018. The winner will be contacted by May 19th 2018.
How will the winner be selected?
North Coast Financial will select the winning essay based on the content and quality of the writing.
What will the winner receive?
The winner will receive $750.
2017 Scholarship Award Recipient
Craig Miller – Texas Christian University – $500
2018 Scholarship Award Recipient
Luke Harris – Quincy University – $750
---
About North Coast Financial
North Coast Financial are hard money lenders in California with over 40 years of experience providing real estate investors and property owners with short-term loans secured by real estate. Offering various hard money loans including rehab loans, fix and flip loans, bridge loans, estate loans, investment property loans, cash out refinance loans, purchase loans and reverse mortgage refinance loans.
Recent Hard Money Loans Funded by North Coast Financial