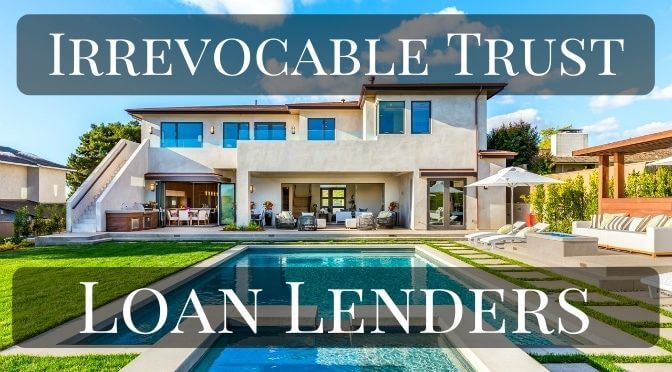 Irrevocable Trust Loan Lenders
Irrevocable Trust Loan Lender – Trust Beneficiary Buyouts
An irrevocable trust loan lender is able to provide financing directly to an irrevocable trust. Irrevocable trust lenders primarily provide loans to an irrevocable trust that needs cash in order to help equalize a distribution of the trust's assets between beneficiaries. This is commonly known as a trust beneficiary buyout, home equity loan on inherited property, estate loan to buyout siblings and various other terms that accomplish the same result. Multiple beneficiaries of the trust are inheriting a property and one or more siblings want to keep the property while the others want cash in exchange for their interest in the inherited property. If the inherited real estate was not within a trust it would likely be within an estate which would require the administrator/heirs to obtain a probate loan.
The irrevocable trust loan lender provides the trust loan with the irrevocable trust as the borrower and secures it against real estate with a note and deed of trust just like a traditional mortgage. The loan proceeds go directly to the trust's bank account. Once the funds are in the bank account, the cash can be distributed to the beneficiaries who are selling their interest in the real estate. Now the property can be transferred by the successor trustee from the irrevocable trust into the name of the beneficiary who is keeping the property. Once the property is in the name of an individual, they can obtain a long-term conventional loan that will refinance the short-term irrevocable trust loan.
The trust beneficiary who will take ownership of the inherited property will need to provide financial information to the irrevocable trust loan lender. Irrevocable trust loan lenders need to ensure the beneficiary has the financial strength and credit in order to refinance the short-term trust loan into a long-term traditional loan. Putting a trust loan borrower in a short-term loan they aren't able to refinance would be a bad situation for everyone involved.
Irrevocable Trust Loan Lenders – Repair and Update a Trust Property
Another common use for a short-term trust loans include borrowing funds to fix up and repair a trust-owned property prior to selling it. Often times a property that has been owned by a family for many years could use some updating and may have deferred maintenance that needs to be addressed. Selling a property with noticeable issues will reduce the number of potential buyers and is likely to attract low-ball offers. Refreshing the property and making repairs can help obtain a higher sales price when the property is sold.
The trust will be responsible for making monthly payments on the trust loan until the loan is repaid. When the trust sells the property, the irrevocable trust loan will automatically be paid off through the purchase escrow.
Irrevocable Trust Lenders – Short-Term Lending Only
Irrevocable trust lenders are not able to consider long-term loan terms for irrevocable trusts. Specialized trust loan lenders can only provide loan terms of 1-3 year in most situations. Conventional lenders are not able to provide irrevocable trust loans. A conventional lender would want to take the title of the property out of the trust before providing the loan. Unfortunately, many conventional lenders initially think they are able to provide a loan to an irrevocable trust only to find out they cannot. This results in frustration and wasted time for everyone involved. Conventional lenders routinely lend to living or revocable trusts, which is likely what creates the confusion.
Irrevocable Trust Mortgage Lenders – Who Are They?
Irrevocable trust mortgage lenders are usually private money lenders or hard money lenders. The source of funds they lend are private investors as opposed to large institutions such as banks and credit unions. The irrevocable trust loans they provide are not government backed loans so there are fewer regulations involved which results in faster funding times and more flexibility. A trust loan company provides loans secured with a note and deed of trust against real estate like a traditional mortgage. Private money lenders primarily provide short-term loans and typically do not lend for longer than 3 years. Since the loan terms are for shorter periods of time, the interest rates are higher than conventional loan rates. The borrowers of the irrevocable trust mortgages typically refinance within a few months as it's in their best interest to refinance to a lower interest rate once the property transfers from the trust into their name as an individual.
---
North Coast Financial is an experienced irrevocable trust loan lender for California real estate. Please contact us for a free consultation.
Recent Estate, Probate and Trust Loans Funded by North Coast Financial
Probate & Trust Loans Resource Guide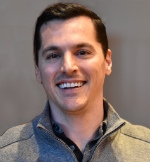 Latest posts by Jeffrey A. Hensel
(see all)
California Irrevocable Trust Loan Request
An associate will contact you to review the loan scenario and provide a quote.