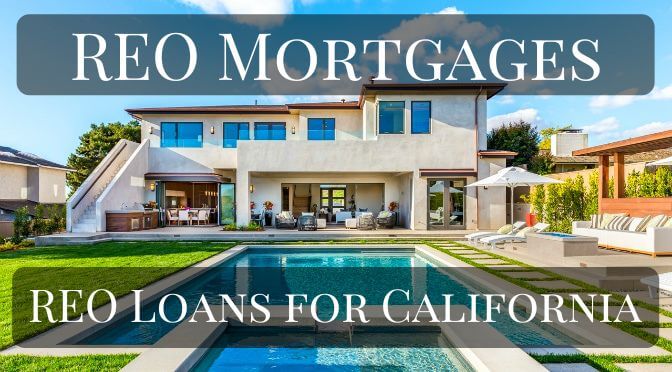 REO Mortgages in California – REO Loans for Financing REO Properties
California REO Mortgages & Loans
An REO mortgage allows a buyer to purchase an REO property directly from the bank. Bank owned properties are difficult to purchase with a conventional loan as banks often require either all cash or REO financing from a hard money lender for the transaction.
REO mortgages are only intended to be short-term loans to help the buyer secure the property. Once the buyer has the property in their name, they can begin to refinance the REO loan into a long-term conventional loan. If the purchaser of the property plans to fix up the property and sell it immediately, the REO mortgage will provide plenty of time to accomplish this (12 months) and the future sale transaction will automatically payoff the REO loan.
In some REO property situations, the real estate has significant damage or other issues that prevent the property from being able to qualify for a conventional loan. REO properties are often sold as-is even when extensive repairs are needed to make the property livable. The REO mortgage gives the borrower the ability to acquire the REO property, make the necessary repairs and then refinance out of the REO mortgage and into a conventional loan. Properties with significant problems may require the borrower to contribute a larger down payment and demonstrate the ability to fund the needed repairs.
Financing REO properties is straightforward and can be completed quickly. The borrower must have a substantial down payment and show sufficient financial strength in order to refinance the REO loan. The REO financing process can be completed in as few as 5 to 7 days.
REO Mortgages for Owner Occupied & Primary Residences
North Coast Financial is able to provide owner occupied and primary residence REO mortgages in California. The borrower will need to have a down payment of at least 25-30% of the purchase price and be able to qualify for the loan amount based on a debt-to-income ratio as required by the current federal regulations for consumer purpose loans. The borrower will also need to have a high enough credit score in order to refinance out of the REO financing and into a conventional loan in the near future.
Owner occupied REO mortgages take approximately 2 weeks to be funded. Consumer purpose loans are heavily regulated by the federal government which increase the time to fund regardless of the type of lender that is providing the financing.
Recent Hard Money Loans Funded by North Coast Financial
California REO Mortgage Request
An associate will contact you to review the loan scenario and provide a quote.