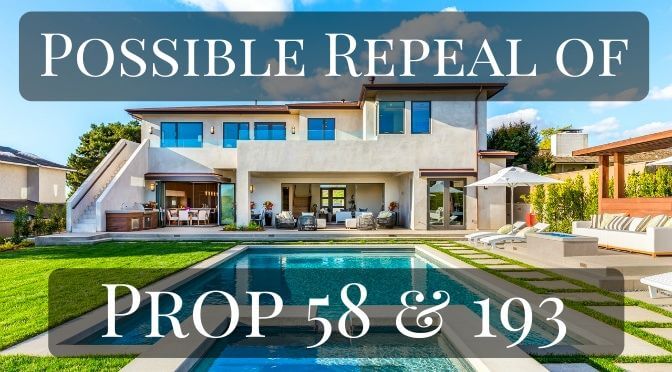 Possible Repeal of Prop 58 & 193 in November 2020
Prop 58 and Prop 193 are in danger of being repealed
Proposition 19, an initiative on the November 3rd, 2020 ballot in California, aims to repeal two constitutional amendments that reduce property taxes for children and grandchildren who have inherited real estate.
– Prop 58 prevents a reassessment of property taxes on real estate transferred from the parent to their children.
– Prop 193 prevents a reassessment of property taxes on real estate transferred from grandparents to grandchildren when the parents are no longer alive.
Prop 58 and 193 are valuable to heirs inheriting family property with low property tax bills thanks to Prop 13. Prop 13 places a 2% annual cap on the assessed value of the property. This initiative will not repeal Prop 13.
Repeal of Prop 58 and 193 Pushed by California Association of Realtors
This initiative is being pushed by the California Association of Realtors. Prop 58 and Prop 193 would be replaced with a limited exclusion that only applies if the child uses the inherited property as their personal residence and also includes a cap on the value that can be excluded from a reassessment. Property tax reassessment exclusions on all other inherited property besides a primary residence will go away completely.
This will result in additional tax revenue for the state of California and more commissions for Realtors in California as heirs are forced to sell when they find themselves unable to pay the tax bill on their inherited property.
The proposal to repeal Prop 58 and 193 was added to a previously failed initiative pushed by the California Association of Realtors (Proposition 5). Quietly adding the potential repeal of Prop 58 and 193 to a previously rejected initiative is a deceptive strategy and the general public does not seem to be aware of these potential changes to the California state constitution. This will likely mislead many California voters into doing away with two popular Propositions that have been California law for decades.
VOTE NO ON PROP 19
Source: Yet another ballot measure threatening major tax increases
North Coast Financial provides trust loans and probate estate loans for beneficiaries who wish to take advantage of Prop 58 and 193 in order to avoid a property tax reassessment.
Recent Estate, Probate and Trust Loans Funded by North Coast Financial
Prop 58 or 193 Loan Request
An associate will contact you to review the loan scenario and provide a quote.